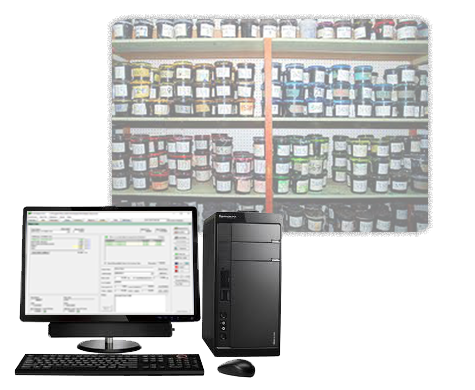 MixMaster ink formulation / production software is the essential tool for managing any ink department or in-plant facility. Robust features include batch formulation, recycling / work-off, estimation, job tracking, inventory management, organizing formulas by ink series and exportable reports. The intuitive and user friendly design makes this an easy software to learn and use to its fullest potential. The MixMaster is also licensed with Pantone Inc and includes formulas from five of their popular color guides.
Download a FREE Trial today and see the many benefits MixMaster has to offer.
Testimonials
Peter Evenhouse, Co-Owner / Production Manager, Evenhouse Printing, Hamburg NY - "We've been using MixMaster for six years without a single mixing mistake. 20 grams or ten pounds - same straightforward results!"
Jeff Skinner, Sun Chemical Inplant Mgr. - "The MixMaster software saves time, money and paperwork. I could not imagine an ink room operating without it!!"
---
Customers
AGFA
Braden Sutphin Ink Co.
Caraustar
Central Ink
Cenveo
Evergreen Packaging
Flint Group
GE Richards
Graphic Packaging
huber group
Joules Angstrom
Kelly Paper
LSC Communications
Navitor
Pertech
Publishers Printing Co.
Quality Inks & Rollers
Rock Tenn
RR Donnelley
Sun Chemical
Taylor Communications
The Oldham Group
Wikoff Color Corp.
Zeller-Gmelin