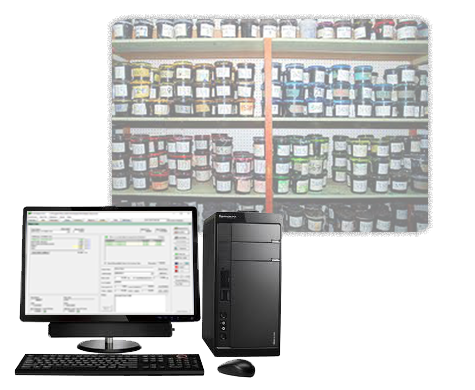 MixMasters, Inc. is the originator of ink recycling software. Twenty five years ago we created the first Pantone approved ink recycling software for the printing industry. Since that time we have progressed forward in the development of our software so that it has become the easiest and best ink room tool in the industry. The MixMaster is also available in two very affordable versions.
Don't wait any longer, Download a FREE Trial of MixMaster today. Come and see the many benefits our software has to offer.
Testimonials
Peter Evenhouse, Co-Owner / Production Manager, Evenhouse Printing, Hamburg NY - "We've been using MixMaster for six years without a single mixing mistake. 20 grams or ten pounds - same straightforward results!"
Jeff Skinner, Sun Chemical Inplant Mgr. - "The MixMaster software saves time, money and paperwork. I could not imagine an ink room operating without it!!"
---
Customers
AGFA
Braden Sutphin Ink Co.
Caraustar
Central Ink
Cenveo
Evergreen Packaging
Flint Group
GE Richards
Graphic Packaging
Hubergroup
Joules Angstrom
Kelly Paper
LSC Communications
Navitor
Pertech
Publishers Printing Co.
Quality Inks & Rollers
Rock Tenn
RR Donnelley
Sun Chemical
Taylor Communications
The Oldham Group
Wikoff Color Corp.
Zeller-Gmelin